Consumer Affairs Best Overall Value Winner
Local Electricians Category 2017,2016,2014
---
Riverside

(951) 352-1105

     San Bernardino County 

(909) 356-4105
Longtime Local Favorite Electricians
We understand that looking for a electrician near me in Riverside County and San Bernardino County that are reliable, licensed, and insured is difficult. We want to EARN your business. When you do choose
All City Electrical and Lighting
our
electricians
are in Inland Empire providing services we guarantee that you will be satisfied. We are a customer service driven business and know that  every customer counts!
---

---
All City Electrical and Lighting specializes in residential electrical panel upgrades, fuse boxes, ceiling fan installations and all other same day services such as outlets, wiring, spa and swimming pool hookups, LED and recessed lighting for interior rooms and landscape lighting for your exterior of your home.
For commercial properties All City Electrical and Lighting provides installation, repairs and maintenance to all types of lighting such as parking lots, warehouse, and holiday lights. We have exceptional experience installing, repairing and maintaining commercial signs such as building signs and monument signs. Along with troubleshooting,  electrical panels upgrades, power outages and wiring and outlets too.   We also specialize in energy efficient lighting such as LED and Induction.
---
ELECTRICAL CONTRACTOR IN RIVERSIDE COUNTY AND SAN BERNARDINO COUNTY
Here at All City Electrical and Lighting, our electrical contractors have decades of experience, and we're proud to be Master-certified. We keep our rates very affordable, and we regularly assist customers Inland Empire and the surrounding areas. We're a member of the National Electrical Contractors Association and the Independent Electrical Contractors. No matter what the need, we'll do our best to safely complete all projects while being affordable for everyone's budget.
---
All City Electrical and Lighting electricians have been awarded "best customer care and rank first as best overall value for 7 out of the last 10 years. Our focus is on;
Fantastic customer service
Punctual job completions
Free in-home estimates
Appointment flexibility
Each of our technicians is fully licensed, bonded, and insured, and we'll pay attention to detail whenever we're working for you .For residents and business owners All City Electrical and Lighting is" near me" Riverside County and San Bernardino County..
From ceiling fan and fuse box installations to circuit breaker and electrical panel replacements, you can't go wrong with All City Electrical and Lighting in Riverside and San Bernardino Counties. We're here to answer any of your questions seven days a week, and same-day appointments are available. If you need an electrical contractor, give us a call today. The payment methods we accept include Visa, cash, personal check, debit, and MasterCard.
---
POPULAR SERVICES
With energy costs constantly on the rise, now is a great time to install a ceiling fan in your home or office.
A ceiling fan is a cost-effective and energy-efficient way to cool down your space.
Without fuses, the wired home is a dangerous thing. All it takes is one surge to overpower
a system and threaten a home and its dwellers. Fortunately, fuses are a reliable safeguard.
Your circuit breaker might seem like a small and inconspicuous metal box, just tucked 
away in some gray corner of your basement. But it's really the core of your home's vast electrical.
Family-owned and -operated for over 30 years, All City Electrical and Lighting is one of the best companies to turn to whenever you're in need of a reliable team of commercial electricians for troubleshooting or high reach lighting and sign repairs or installations we have electricians with bucket trucks available 24/7. All City Electrical and Lighting electricians have an extensive background in electrical tenant finishes, renovations, design builds, construction management and service contracts. We work side by side with property managers and commercial property owner's to provide year-round maintenance and repair for their commercial properties. We  understand  that Preventative Maintenance is key to saving property owners in Riverside County and San Bernardino County considerable operations costs.
With technology the way it is today, it seems like there's always a new gadget to bring home or into the office. And the more gadgets and appliances you have, the more electrical switches and outlets you'll need. Fortunately, we can help in that regard. At All City Electrical and Lighting, we provide a wide range of commercial and residential electrical services, and we can outfit your home or business with the additional outlets and switches you need.
Are you having electrical issues at home? Perhaps your system keeps getting overloaded; or maybe you're seeing higher bills out of nowhere. No matter the issue, worry not: Our team is up to the challenge and at your service. We offer comprehensive home electrical repair services designed to get your electrical systems up and running again. We're equipped to handle issues such as:
Faulty wiring

Non-functioning outlets

Outdated panels

Landscape Lighting

LED and Recces Lighting
For Your Protection Make Sure Your Electrician is Licensed in the State Of California..
Don't Trust Your Home Or Business To Someone Who advertises A "CHEAP" Hourly Rate because he is not a state licensed contractor.
Don't take a chance hiring a Handy man to do the job of a Electrical Licensed Contractor. Your home owners insurance policy may limit the type of work performed by a non state licensed contractor.
We do electrical right the first time – every time!
Some situations will require the not only the knowledge, but the precision of a trusted and reputable Master Electrician, Riverside County and San Bernardino residents rely on All City Electrical and Lighting for the past 33 years. 
---
Our Services Include but not limited too;
Our Services Include:
Circuit Breakers / Electrical Fuses Install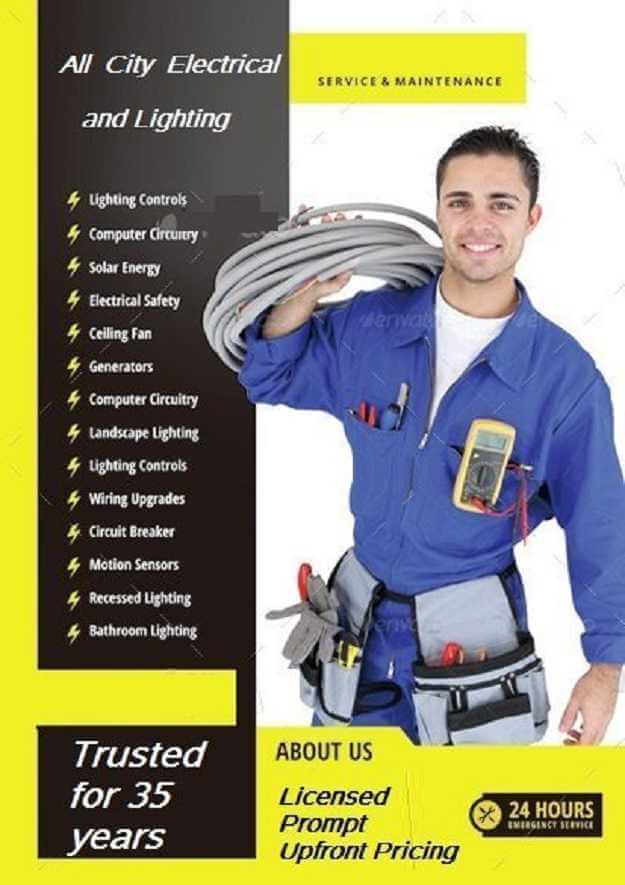 Electrical Home Inspections
Electrical Wiring / Rewiring New & Old Buildings
Outdoor and Security Electrical  Lighting
120/240 Volts Electrical Installations
Replace / Install Fluorescent Fixtures, Ballast, Lamps
Commercial Electrical Maintenance
GFCI Installation and Service
Ceiling Fans / Pre Wire & Installation
Electrical Panel Upgrades
Complete Line Volt / Low Volt Landscape Lighting systems
Multi Media (Home Theatre) Setups, Installs
Flat Panel TV Installation
Plugs/Switches Installation
Electric Wiring For New Home Additions
Electrical Panel Services
Hot Tub Electrical Installations
TV, Telephone, Data Cable/ Data Drops
Home Electrical Safety Inspection
Whole House Electric Surge Protector
Commercial Electrical Remodel / Renovation
Residential Electrical Remodel / Renovations
High Reach Parking Lot Lighting
High Reach Sign Repair/installations
Routine Maintenance Commercial Shopping Centers and Offices/Warehouses
---
Cities in Riverside County we service;
County of Riverside           
Banning                         Beaumont
Blythe                            Calimesa
Canyon Lake                 Cathedral City
Coachella                      Corona
Desert Hot Springs       Eastvale
Hemet                           Indian Wells
Indio                              Lake Elsinore
La Quinta                      Moreno Valley
Murrieta                        Norco
Palm Desert                 Palm Springs
Perris                           Rancho Mirage
Riverside                     San Jacinto
Temecula                     Wildomar
---
Cities of San Bernardino County we services
County of San Bernardino
Angelus Oaks              Apple Valley
Barstow                       Big Bear Lake
Bloomington                Chino
Chino Hills                   Claremont
Colton                          Crestline
Fontana                       Grand Terrace
Hesperia                      Highland
Joshua Tree                Lake Arrowhead
Loma Linda                 Lucerne Valley
Mentone                      Montclair
Needles                      Ontario
Rancho Cucamonga   Redlands
Rialto                           Running Springs
San Bernardino           Twentynine Palms
Upland                         Victorville
Wrightwood                  Yermo
Yucaipa                        Yucca Valley
---
Follow All City Electrical and Lighting    951-352-1105     909–356-4105
---